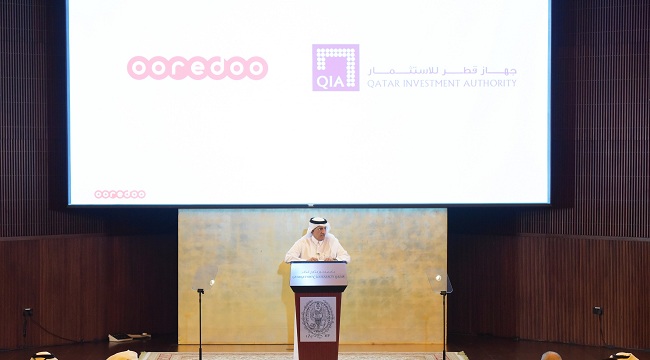 Country's Readiness for Challenges Enabled it to withstand initial effects of Blockade and Push Ahead for Greater Success
Doha, Qatar
Qatar's investment in knowledge and its leadership's profound level of experience have been key factors that have enabled the nation to thrive in the face of the on-going blockade, said H.E. Sheikh Abdulla bin Mohammed bin Saud Al-Thani, Chairman of Ooredoo and CEO of Qatar Investment Authority.
In a far-ranging speech at Georgetown University in Qatar, His Excellency Sheikh Abdulla outlined the "ingredients" that have enabled Qatar to continue its success and the measures that will sustain the nation in the future.
Qatar's investment in education and its drive to create a knowledge-based economy have helped create a pool of experience that enables the country to face risks and address challenges.
"Qatar is under a blockade, but there is no real impact on daily life within the country – shelves are full, business continues, and our airline is flying high. This has been possible because our leaders anticipated this situation and took all necessary steps to protect the welfare of our people – their experience brought us through the challenging first weeks and delivered us safely to our current stability," said His Excellency Sheikh Abdulla.
His Excellency outlined the key factors in building a culture of success: a clear vision of what you want to achieve and where you want to go; an honest assessment of strengths and weaknesses; a deep understanding of the opportunities, risks and potential evolution of the environment in which you operate; and a strategy that matches your strengths, compensates for your weaknesses and deals with risks.
During the speech, he drew upon his experience with Ooredoo and Qatar Investment Authority, to provide examples of how these principles have been applied in practice.
For Ooredoo, he outlined how the company has grown from being a one-nation operator with fewer than two million customers in 2005, to become a major operator with more than 150 million customers and a brand equity value of more than USD 3 billion today.
He also outlined the remarkable depth of experience that the company has acquired in some of its international markets, citing the company's experience in delivering a major network upgrade in Iraq through its Asiacell operations, successfully acquiring a stake in Indosat in one of the industry's largest-ever deals, and winning a licence to operate in Myanmar against global competition.
"Through each of our bold steps overseas, we have developed significant experience. If we had stayed at home, serving two million people, would we have gained such in-depth expertise and forged such strong connections across global markets? Qatar's willingness to push outside of its comfort zones has been a key ingredient in our success," said His Excellency Sheikh Abdulla.
Equally, Qatar Investment Authority's mandate to invest and manage the State's fund reserves has seen the organisation execute a range of high profile international deals in recent years. These deals have created a wealth of experience within the Authority and also provided the financial stability that enabled Qatar's banking sector to weather the initial impact of the blockade.
At the close of his speech, His Excellency Sheikh Abdulla urged his audience to consider the deeper meaning of success. Beyond the financial rewards, he argued, the real measure of success is your capacity to help people and enable others to succeed.
"Success ultimately depends upon you. The more you learn, the more you experience, the bigger your success. As we work towards one of the most important National Days in recent years, we should remember and be grateful for our predecessors' hard work and for the leadership of His Highness The Emir Sheikh Tamim bin Hamad Al Thani, The Father Emir His Highness Hamad bin Khalifa Al Thani, and His Highness The Deputy Emir Sheikh Abdullah bin Hamad bin Khalifa Al Thani ," said His Excellency Sheikh Abdulla.
"We should be thankful for those who went before us and for our leaders for their hard work in building our nation's reserves of knowledge and experience. We can show our gratitude by giving back," he concluded.