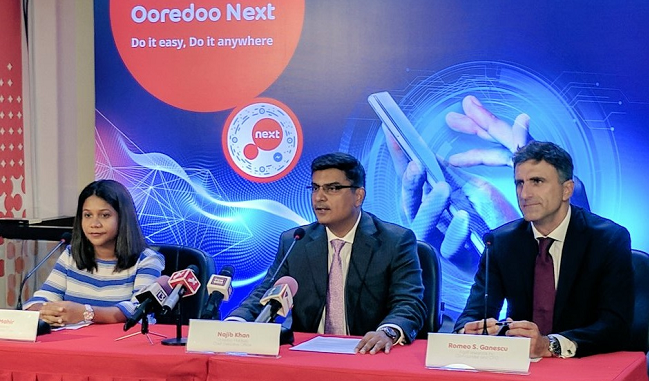 Ooredoo today launched its new digital engagement platform – Ooredoo Next, in partnership with FastForward.ai, a Silicon Valley tech company revolutionizing engagement in the 4-billion customer pre-paid mobile market. Supported by a real-time API platform featuring artificial intelligence and machine learning, Ooredoo Next allows mobile users in the Maldives to easily engage with Ooredoo inside Facebook Messenger and check best offers, best data add-ons or just manage their Ooredoo services using real-time automated answers.
Ooredoo Maldives CEO, Najib Khan said: "Ooredoo Maldives remains strongly committed to the Digital Maldives initiative. As the world becomes increasingly digital, our aim is to ensure that we are at the helm of this transformation in the Maldives. From the innovative services we provide, to the way we engage with customers, we are focused on embracing new technologies which bring life-enriching opportunities to our customers. Ooredoo Next acts as a digital companion to our customers, and its launch marks another important milestone in our digital transformation journey. This state of the art platform provides us with a new way to connect with our customers - tailored to their needs today. We've launched the platform with Facebook Messenger and will continue to expand this service to other popular social platforms in the Maldives."
Head of Customer Care, Gulnaz Mahir said: "Our customers are spread across the Maldives, and innovations such as the Ooredoo Next platform becomes vital towards reaching out to them. The platform is open to any mobile user in the Maldives; anyone can open a Facebook Messenger conversation with Ooredoo to check best offers, view our product portfolio and manage their Ooredoo services. With Ooredoo Next, we're meeting customers where they already spend their time, inside social networks, and without the need to switch to or download another application. They simply start a new conversation on Facebook Messenger, the same way they do with friends. The service becomes even easier to use, as all Ooredoo customers can use Facebook Messenger free of charge through Free Basics. Ooredoo Next will evolve as our business grows, to provide access to all new services on this platform."
Ooredoo Next allows mobile users across the Maldives to:
Stay up to date on new promotions & offers
View details of Ooredoo's products & services
Manage & subscribe to Ooredoo services
"We bring Silicon Valley tech to the prepaid mobile customer market, which has not seen innovation in over 20 years. We enable mobile operators to give their customers 100% control of their choices: they decide the services they want to use, how and when they want to use them." said Augie K. Fabela II, Co-Founder and CEO, FastForward.ai Inc. "We are delighted to enable Ooredoo on its journey to engage their customers."
"We changed the customer user experience from what it used to take 10 to 20 clicks to 1-swipe and 1-click." said Romeo S. Ganescu, Co-Founder and CPO, FastForward.ai Inc. "FastForward NXTTM patent-pending platform provides mobile operators with a mobile-first experience and end-to-end customer engagement right inside Facebook Messenger."
Ooredoo will continue to innovate with local and international partners to further increase customer engagement and satisfaction through the power of digital.