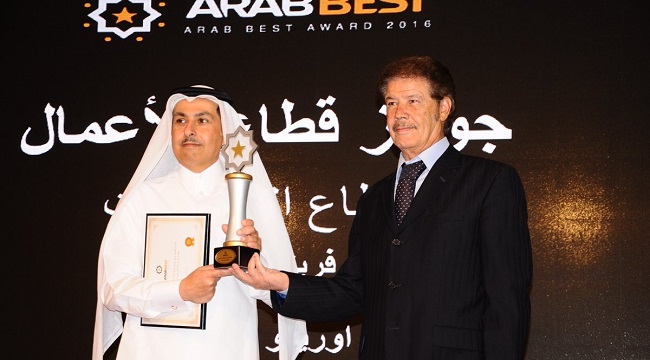 Prestigious Event in Morocco Names Ooredoo's Leaders as the Best in the Telecom Sector
Doha, Qatar
Ooredoo received another major award last week, with the senior management team winning the "Best Executive Team Award for the Telecom Sector" at the inaugural Arab Best Awards 2016.
The Arab Best Awards is a new event designed to celebrate leadership and excellence in three main areas – government and leadership; business excellence; and sports, social and community contribution.
Hosted in Marrakesh, Morocco on 27 November, the award ceremony brought together leading executives and senior government figures from across the Arab World. General Secretary Mohammed Mubarak Al Mohannadi opened the awards with a speech praising the winners for their on-going efforts in improving lives and opening opportunities across the MENA region.
Ooredoo received the award for the decisive management style that has seen the company transform itself over the past three years since the launch of the Ooredoo brand in 2013. In particular, the company was recognised for its data experience leadership across its footprint in the Middle East, North Africa and Southeast Asia.
Ooredoo today offers 4G services in eight markets around the world, supported by incredible content and easy-to-use apps. As a result, more people today enjoy the Internet with Ooredoo than ever before.
The award was received by Sheikh Saud Bin Nasser Al Thani, Group CEO, Ooredoo, who attended the event in a delegation that included Waleed Al-Sayed, Deputy CEO, Ooredoo Group.
Sheikh Saud Bin Nasser Al Thani, Group CEO, Ooredoo, said: "We are pleased and proud to receive the 'Best Executive Team Award', as a recognition of the hard work and clear vision that Ooredoo has delivered over the past few years. We have succeeded in establishing data experience leadership across our markets, and are pushing ahead of our competitors to offer the best networks, content and technology that we can. I dedicate this award to our hard-working colleagues in Ooredoo operations everywhere, and give our customers a firm commitment that this award will push us to greater heights."
Ooredoo's consolidated total customers stood at 133 million at the end of September 2016, reflecting the company's impressive growth in recent years.
The "Best Executive Team Award" is the latest in a string of impressive commendations received by Ooredoo in 2016, which have included four top honours at the CommsMEA Awards in Dubai, including "IPTV Service of the Year" and the "Network Optimization Award"; 21 International Business Awards (IBAs), including 'The People's Choice Award' in the telecommunications category; "Telecoms CEO of the Year" for Waleed Al-Sayed at the CEO Middle East Awards; and "Best Operator Network" at the 2016 Telecom World Middle East Awards.