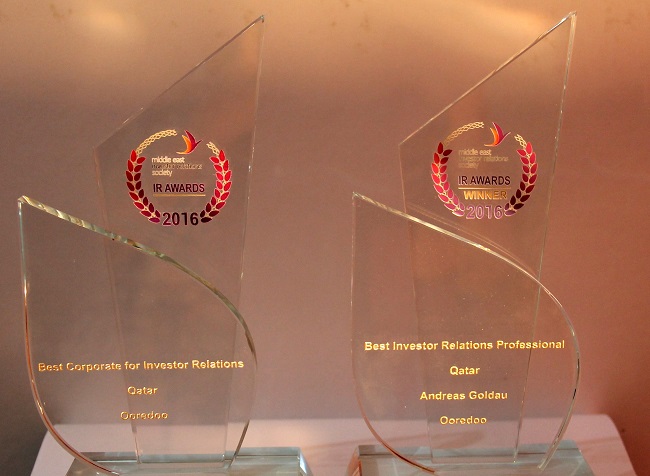 Ooredoo Q.S.C. ("Ooredoo") Ticker: ORDS.QA, todays announces it has won the 'Leading Corporate for Investor Relations Qatar' and the 'Best Investor Relations Professional in Qatar' awards at the Middle East Investor Relations Society ("MEIRS") Awards.
Held on Wednesday, 21 September, in Dubai, the awards ceremony recognizes the region's best investor relations ("IR") teams and IR professionals as part of the MEIRS' annual conference. The conference is now in its eighth year and is the largest event focused on investor relations in the Middle East.
Sheikh Saud bin Nasser Al Thani, Chief Executive Officer, Ooredoo Group, said, "At Ooredoo, we continue to strive towards delivering world-class products, services, and networks, as well as excellence in all areas of customer service. With these awards, our efforts to actively engage with our shareholders, and the investment community, have clearly been recognized. We understand and support the importance of strengthening one's relationship with all market participants, and we are extremely pleased to have been awarded with these accolades by MEIRS."
Ooredoo has been featured on the MEIRS' nomination list for best practice in IR since the society's first awards ceremony in 2009 when Qatar Telecom (Qtel – Ooredoo's former brand name) was named Qatar's Best Company for Investor Relations, demonstrating Ooredoo's long-standing commitment to fair, timely and ongoing disclosure and its promotion of transparency.
The MEIRS' Conference and Awards event brings together listed and unlisted companies, investors, analysts, advisors and representatives from regional governments, stock exchanges and regulatory bodies to educate attendees about the value of investor relations and celebrate best-in-class IR programs and professionals. Each year, buy-side fund managers and sell-side analysts are invited to survey the performance of listed companies' IR programs in the region in partnership with market survey expert Extel. The winners of this survey are announced following the annual conference.
For further information:
Email: IR@ooredoo.com
Follow us on Twitter: @OoredooIR