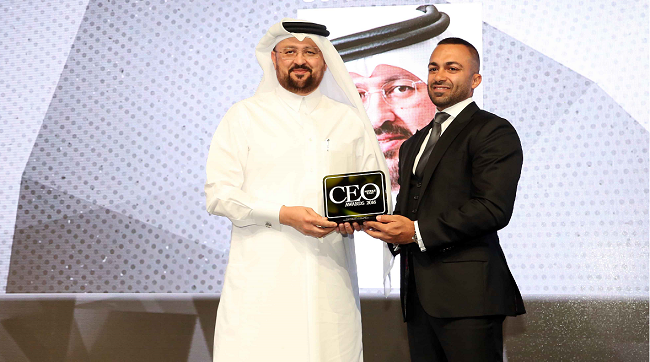 CEO Waleed Al Sayed Recognised for Strong Leadership at the CEO Middle East Awards 2016
Doha, Qatar
Waleed Al Sayed, Chief Executive Officer, Ooredoo Qatar, was named as the 'Telecoms CEO of the Year' last night at the CEO Middle East Awards.
The ceremony, which was held at the Four Seasons Hotel in Dubai, was attended by some of the Gulf's top executives. The annual awards seek to recognise and reward outstanding success, innovation and ethics across the region.
Waleed Al Sayed received the award in recognition of the remarkable impact he has made since being named as Chief Executive Officer of Ooredoo Qatar and Deputy Chief Executive Officer of Ooredoo Group in November 2015.
In Qatar, Ooredoo successfully expanded its revenue share of the market to 72.2 percent in the first quarter of 2016, and secured 3.4 million customers by the end of 1H 2016. The company has pursued network leadership in Qatar, completing a major Supernet upgrade by adding the new Category 9 LTE-Advanced standard to its mobile network and beginning work on Qatar's first 5G research and development centre.
Waleed Al Sayed, Chief Executive Officer, Ooredoo Qatar, said: "Ooredoo is determined to deliver the very best for people in Qatar, in terms of the most advanced network and most innovative digital services. We will continue to sharpen our operations in every area, so that our customers can be confident they will receive the highest standard of service from us. This award reflects the progress we have made so far, and also encourages us to continue to strive to deliver for the people of Qatar."
Other key milestones for Ooredoo Qatar in 2016 include the commercial launch of the Voice over LTE (VoLTE) network and the introduction of 1Gbps Fibre.
In addition, Ooredoo has announced an ambitious vision to be the leading integrated ICT provider in Qatar and the region, aiming to fully transform its offering for businesses and government institutions. To accomplish this vision, Ooredoo is becoming an "ICT innovation engine" for Qatar, building best-in-class capabilities in-house while engaging with an ecosystem of world-leading innovative partners.
To support this objective, Ooredoo is focusing on a range of smart technologies including Cloud Technology, Advanced Mobile Apps, Smart Cities, Smart Stadium and Smart Home solutions. The goal is to fundamentally transform the depth and range of ICT services offered to organisations and enterprises in Qatar and in the region.
Pushing for more digital and self-service methods, Ooredoo has also launched a Queue Management Solution in 2016 which enables customers to see the number of waiting customers in any Ooredoo Shop and get a Queue Token before arriving, all delivered via the Ooredoo App.
Now in its tenth year running, the CEO Middle East Awards recognises the best CEOs in 14 business categories.